Preparing for the Alaskan Journey
We all know that the Last Frontier is harsh and unforgiving so we are going to do our best to make the adventure as enjoyable and comfortable as possible. Being in the tough terrain is hard and teterous work. One wrong move and we can be stranded in a blizzard for days on end. To help us minimize problems, we have gained various amounts of equipment to help us tread through the forrest of Canada and cross the frozen tundras of Alaska. Based on our previous trip to Alaska last summer, we already know which items we have brought were needed and which items were a drag throughout the whole trip. Since then we have acquired new items and teamed up with our sponsors to go further and explore parts of known in the Alaskan Wild.
Toyota 4Runner
Last summer, we road tripped to Alaska with our 2010 Toyota Prius. Although the gas mileage was great, it wasn't the best vehicle to take on rough terrain. The Yukon Territory in Canada has very little residence meaning the up keeping with the roads are very unlikely. Large potholes and muddy dirt roads are a common sight all the way North pass Vancouver, so the Prius had seen better days. We have gone off-roading in Arizona to catch a glimpse of Fossil Creek Wilderness Area but unfortunately busted a hole in the bottom of the Prius from running over a large rock. Not wanting our vehicle to limit our adventure, we decided to invest in a new rig, one that can keep up with our endless pursuits and insure us safe passage wherever we go. We decided to buy a 2015 Toyota 4Runner as we heard nothing but amazing comments on it. Reliable, Hefty and most importantly able to drive on all terrain. This beast of a truck hasn't let us down the minute we have picked it up, and it has already proven it's worth. We were in the high mountains of Mt Baker National Forrest and ended up spending too long in the mountains and got caught up in the rain. Once we reach the valley, the river that parallels the exit road has flooded the street. We didn't have to think twice as the Toyota 4Runner's high clearance and all terrain tires carried us to safety and warmth.
Being adventurers, finding a place to sleep could be challenging. Spending money every night on a hotel or AirBnB could easily rack up expenses, especially when Alana and I spend months on the road. So to save us a little trouble and money, we decided to invest in a Tepui Roof Top Tent. This particular tent can fit 2 people and a dog, has a 3in memory foam mattress and keeps us above the freezing ground. We can set up camp anywhere we would like in Alaska and pack up quickly if we need to be on the road. Quick. Easy. Simple.
The price of vacation usually falls two three major components: Accommodations, travel, and food. Our 4Runner will fuel our travels and paired up with a Tepui tent, will serve as our hotel also. Going to new places and discovering new culture is amazing and the best way to experience the culture is through food. Food says a lot about the community and the population in the area. Unfortunately we can't eat out every single meal, especially while we are on the road, as it gets rather expensive. To minimize food cost and keep us fed in deserted mountains of Alaska, we decided to buy ourselves a Yeti Cooler. It has been our refrigerator during our travels and serves us fresh meals when there are no stores in sight. Put a block of ice in there and it'll keep your food frozen for more than a week and a half! We've kept milk, eggs, meat and our cold drinks without having to worry about any of it spoiling. It's very spacious in the inside and well built, able to keep weary bears out of our food. Price is a little high but it is worth every penny that was put into it.
Our 2017 Alaskan Adventure consisted of Alana and I so we got the back of the Prius as our storage room. This trip, will be consisting of 4 people and 1 dog. Now we need to consider space as a big factor to how we plan this trip. Organization is key and every space is precious room for us. Because of this, we decided to buy ourselves a Gobi Rack for the 4Runner. Locally made from Aurora Colorado, Gobi Racks makes roof assessable equipment to further expand your cars storage capabilities. We bought their ladder and roof rack to add room for all of our belongings and make getting to the top easily accessible. It came with a 42in Curved LED light bar to shine our way across the dark nights and keep us aware of all the wildlife on the road and a toolbox to help us fix any problems along the way.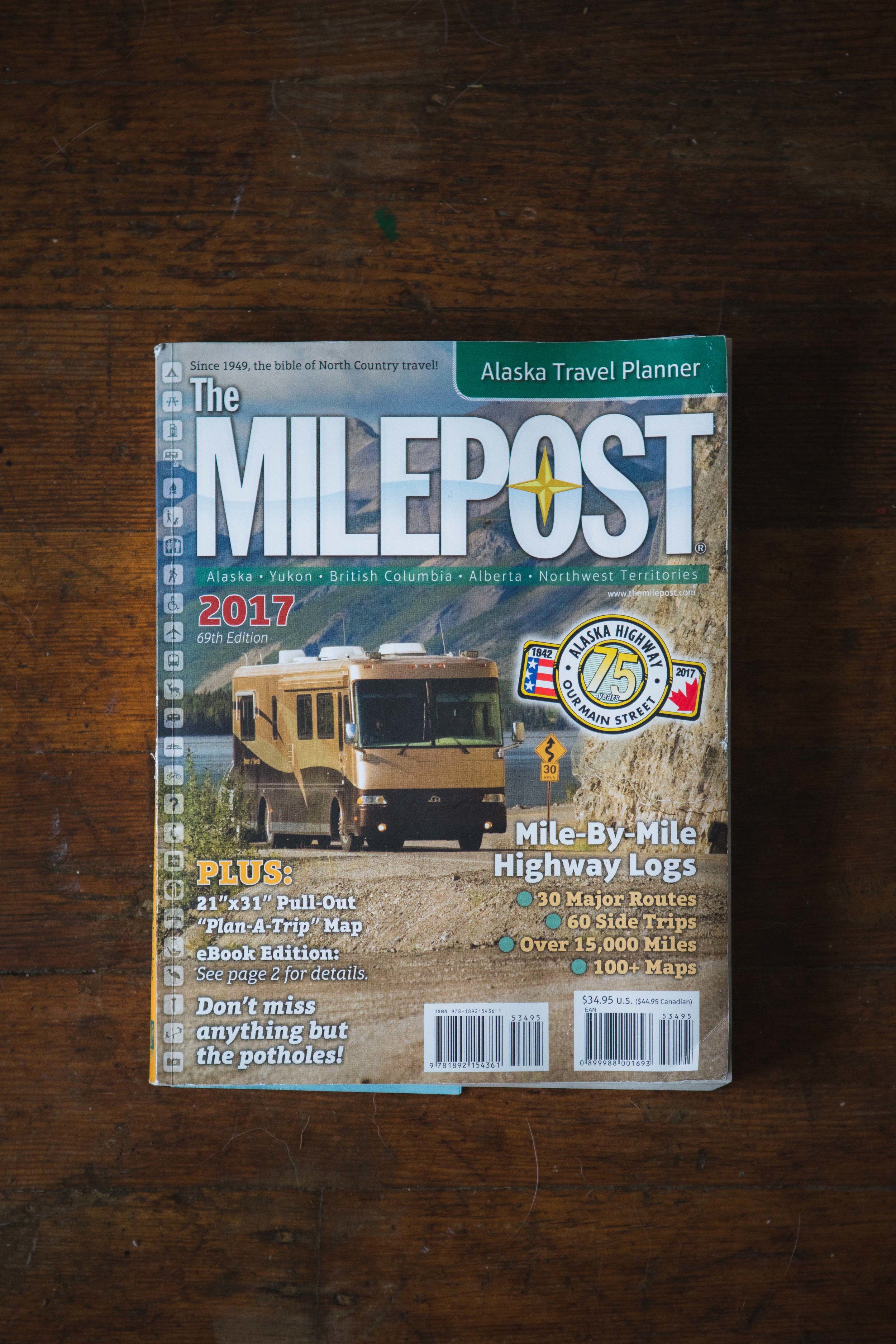 The Bread and Butter of any Alaskan Road trip. This bad baby has everything you need to get you through the last frontier. We found that our GPS in our cars doesn't include anything pass the lower 48, so we ended up utilizing the large map of Alaska that was included within the book. It'll tell you were everything is, one milepost at a time, to course your adventure and to pace yourself for unforgiving and endless roads. With this book, Alana and I could plan out how far to travel, where to get gas, bathroom breaks, camp spots, scenic spots and even just random tidbit of historical informations to keep up entertained through the journey. Once we get pass Seattle into Canada, our lower 48's cellphone service won't work, not even in Alaska so having a great back up travel guide is a safe bet to stay safe in the wilderness.
Setting up the Gobi and all the accessories
We knew we needed more room for our travel and instinctively went to Gobi USA for their product. Installation was simple and quick and the metal was made of light material but also durable. I made sure to use some extra amount of silicone on the nuts and bolts to make sure that my roof is weatherproof for the Alaskan range. We also mounted our Tepui tent, Rotopax and tool box on the rack keeping in mind the Yeti to also be put up there. Although our MPG might take a hit, it allows us to maximize the room in the cab and gives allow us to travel in comfort.
Partnerships
Although Alana and I have done this trip before, it won't be a easy trip over there. We are more aware of what we need to bring and what should be left at home. The time of year we are departing during this trip also doesn't help. It will be much colder and much more dangerous to travers like we did last year. We also decided to do more strenuous hikes and discover sites unseen. Although we could have bought all the gear ourselves, we decided to contact many companies to support us through our travel. We are eternally grateful as they will make our travels more safe, fun and easier as we do 18 mile hikes and kayak on half frozen lakes. Pictured are only some of our sponsors.
Day 0
March 31, 2018
Denver, CO
The day before a trip is always nerve-racking. Going over lists, inspecting gear, double checking you have the right attire for the weather. As we finished packing, Glen got sick. Like, super sick. "I have the flu." He has a fever of 102.3 and I'm sitting here thinking we can't postpone the trip, what are we going to do?
In between plying him with cough drops and compresses, I handled all the shopping, finished all the packing, and got everything loaded into the car by myself. Then I decided: hey, let's count the money we saved one more time, just in case. I found $800 was missing since I'd counted last week. It's a punch in the gut. I cried. I cried for hours. I woke Glen up in spite of his fever. Not only is this a huge blow knowing someone stole almost a grand, it means that we have to be even more careful when we're already running on a shoestring budget.
But we are resilient.
We will not let this ruin our trip.
11:45 pm I went to sleep, 2:45 am I woke up again to finish packing for the road.
Day 0 did not start off strong.