A Journey to The Last Frontier
A trunk full of camera gear, one vacuum sealed wedding dress, and a map with ten thousand miles set out ahead of us! May 20th, 2019 marks the first day of a 40 day journey to the last frontier. We are nervous, excited, and most of all; stoked to embark on a journey like we've never experienced before. As we head out of our comfortable suburban home in Colorado to find solace in our Toyota 4Runner for the next five weeks, we are anxious with anticipation.
Colorado to California:
Driving to California is always an adventure. There are some really cool stops along the way such as Moab, St. George and Las Vegas. But mostly it's 15 hours of desert and praying that civilization will someday return to tired eyes. We luckily made it from Denver, CO to Moab, UT just in time for sunrise. We had the pleasure of competing with the literally hundreds of tourists to get a perfectly average photos of Mesa Arch featuring iconic sun rays and rock stacks far in the distance. We made it to Alabama Hills by late afternoon and was met with what we can only describe as heaven for the overlanding community. Looming mountains, picture perfect rock formations jutting out of the high desert ground, and littered with the finest looking adventure rigs touring the US. We spent sunset and sunrise acting like little kids in a candy shop. Taking photos of our rig was a breeze and we slept peacefully with crickets in the distance and enjoyed a sunrise of cotton candy skies and a surge of energy to make it to Yosemite for the next adventure. Yosemite National Park came next on our grand Golden State adventure. We spent 24 hours exploring the 7,500 feet of El Capitan glory, mobbing around with new friends in our 4Runner squad, and skate boarding through Glacier Point during a tear inducing (happy tears) sunrise.

Driving through the Pacific Northwest
400 miles of coastline and not enough time in the entire world for us to experience the nooks and crannies of Oregon. We started out in Southern Oregon giddy with excitement as we were able to spend three whole days exploring the beaches, forest and heading to Portland for some city action. We spent a weekend catching golden hour sun rays, finding camp in the most delicate forest, witnessing a spectacular blue hour, and experiencing the most amazing sunrise we have ever seen with our own eyes. All within 30 miles of each other. Oregon has such an allure and no matter how much time we spend there, we are always itching for more. The rest of the Pacific Northwest kept us on our toes to what the trip would entail. Seeing our best friends in Seattle, maldon salt bagels, and camping in the coolest place in the PNW are just a few highlights from our time in Washington. Oregon and Washington always treats us so kindly and as we write this journal entry from our 4Runner, we are getting misty eyed knowing our favorite people and our favorite views are a solid twenty hour car ride from our house. Maybe we should fly more ;)
Alcan Highway
Ahhhh yes, finally getting to the part of the trip you actually wanted to read and look at pretty pictures. JK, it's all pretty and worth reading!! Anyways, the famous Alcan Highway. A strip of road that spans 1,400 miles across Canada and Alaska that was created during World War II for easier access to the Last Frontier state. Now used less for war purposes; but instead retired folks looking for a cross country adventure and people like us. 1,400 miles of potholes, raging mosquitos in the summer and the friendliest people you'll ever meet. This highway always shows us copious amounts of wildlife and this year was no exception. I think our final count for wildlife along the Alaska Highway included thirteen bears, forty six moose, twenty two bald eagles and three porcupines! We saw a few grizzly bears out in the wild but didn't want to tempt our fate with a photo. Even with our dad lens on our body the majority of the trip. The only worth mentioning mishap on the road was our flat tire! One of our large off roading tires blew while on the road between Whitehorse, Yukon Territory and Dawson City, YT. The nearest town was four hours away and the only thing we had on hand was a broken bottle jack. We waited for about thirty minutes before an RV pulled over and saved the day. We didn't catch their names, but whoever you are, just know we paid it forward throughout the rest of the trip!
Playing Tourist in Alaska
ALASKA!! The land of the midnight sun, the United States 49th state, and The Last Frontier. Also our home away from home. We crossed into Alaska through the On Top of The World Highway. Our first time going on this stretch of highway and it is unpaved road provided views that were almost unbelievable. You probably won't believe it because we have no pictures from the highway. We were preoccupied with hauling ass to the border before it closed at 8pm. Once we crossed into Alaska, a waterworks of tears ensued. We cry for the journey. We cry for the hard work, perseverance and motivation it takes to drive to Alaska every year. There is no other place in the world that is like Alaska. It is really hard to put into words how special this state is for us.
We started out in Fairbanks, AK. We spent the day there fixing up the 4Runner from the flat, getting an oil change and drinking from the minibar at our hotel room. Next stop was Denali National Park. The only national park that has been on our short list yet had never gotten around crossing off! We spent the next few days in Denali. We hung out with cool folks at an airstrip outside the park and bussed fifty miles into the park seeing Denali Mountain untouched by clouds; it was very surreal. Most people don't get to see Denali while they are up north. It is an elusive mountain that only pops out when its feeling generous and we are feeling pretty blessed that we got to see its insane beauty from a school bus.
We rejuvenated our bodies with the outdoors and white claws. We persisted south towards Hatcher Pass and Seward. We passed through Hatcher Pass for a sunrise and snuck around like ninjas as to not disturb the guests of the hotel and quickly sniped bangers that felt so inspired by spy movies released in the early 2000's. We moved quickly through Anchorage as we only stopped for some Costco Pizza and persecco. It's priorities we are after; obviously. And finally the destination that we anxiously awaited. Seward, Alaska.
Seward, Alaska. Our favorite town in the entire world. Full of moody coast, fisherman and quaint church coffee shops, we spent a good chunk of time in town before taking the water taxi into resurrection bay. 12 miles out at sea is where we headed. An island that holds no electricity or running water but holds a special place in our hearts. It is the island where we tied the knot. On June 18th, 2019, we got married and became Husband and Wife. We recited our vows in front of softly crashing waves, our favorite artist; Wild Child playing in the distance and without a care in the world, celebrated our fresh married status with some grilled ribeyes and a midnight skinny dip in the ocean followed by a hot sauna. Oh to be young and wild. June 18th was the best day of our lives and we spent it in our favorite place in the entire world.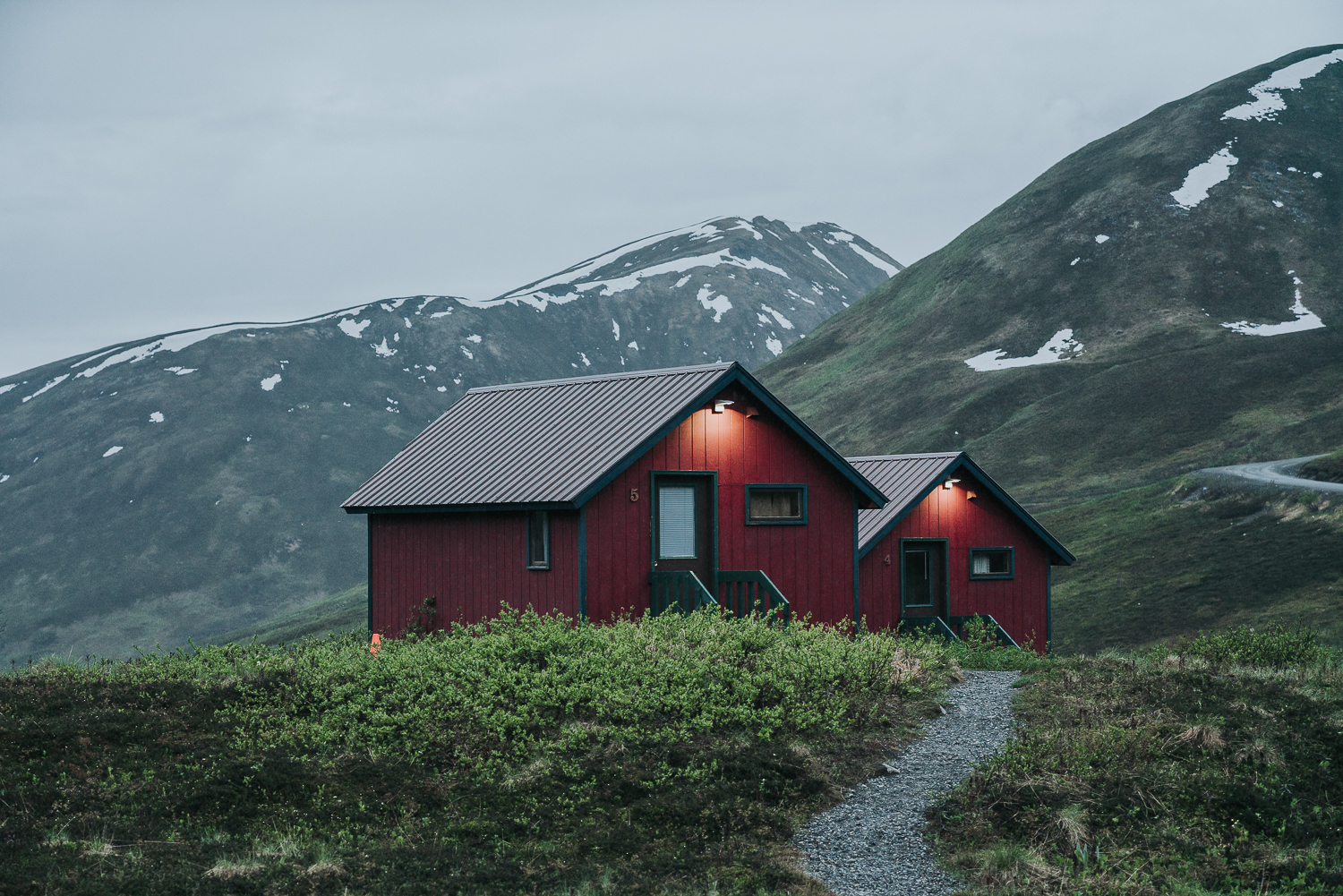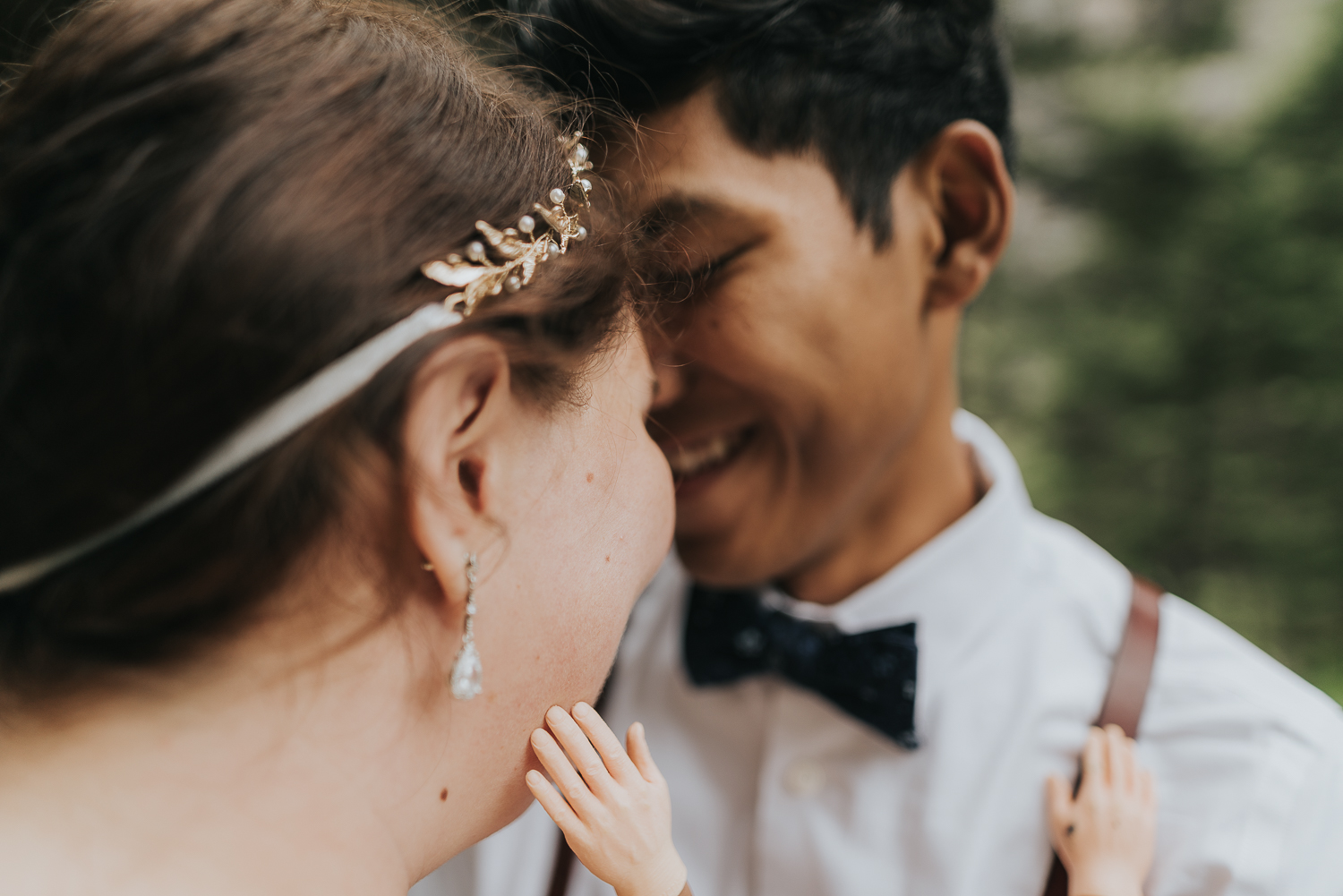 Farewell!
We said farewell to Alaska by a midnight paddle at a local lake. We wept as we crossed back into Canada, knowing how special this state will always be to us. We decided to head home early from our travels. What was originally supposed to be 45 days ended being 33. We got homesick and missed our pup, Tucker and maybe more importantly?? The comfort of our own bed. The sooner we got home, the sooner we could edit, take Tucker to the dog park and finally catch up on our Netflix binges. We stopped at our fav hot springs through British Columbia and b-lined it towards Banff National Park. We stayed for almost a week in the Banff area soaking up the Canadian Rockies, lounging in our nice airbnb and caught some outstanding sunsets and sunrises. We spent one night in Glacier National Park and then hauled booty home. Figured the 17 hour drive back to the house was worth it and spent the day eating Cheetos, blasting 80's music and deliriously chatting about how excited we were to be back in denver. We got home on July 3rd. We were able to celebrate Canada Day on the 1st and then be back in America for the fourth. It was exciting being in two different countries for such similar holidays! We caught up on sleep, Netflix and good boy cuddles. And that concluded our trip~ 33 days, 9 states, 3 provinces, 10,313 miles and one newlywed couple! We had lots of laughs and lots of tears. Overall, this was the best trip we've ever been on. We would rate it a 13/10 and look back on the trip as the best journey we have ever been on to date. We are so grateful. We are so lucky to travel as our full time job. We are so lucky we are able to do it together. We can't wait until our next adventure! Happy Trails!